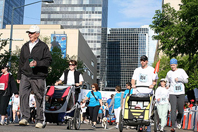 Events Management Services
21one's 5 step Event Process, 'making events succeed'
Feasibility
Determine goals, timelines and budget (considering funding, sponsorship and expenses)
Risk Management: reviewing strengths, weaknesses, opportunities and potential threats associated with event.

Maximize Sponsor Media Reg (pdf)
Planning
Develop a marketing, operations and financial plan
Construct an operations schedule, including tasks, milestones, and responsibilities
Ensure the details and event on a whole is properly prepared and organized

Laurier Park West Layout - Little Big Run (pdf)

ING Churchill Square Base (pdf)
» Click

to review examples of site layouts, organizational charts, etc. that have been developed for past events.
Marketing
Develop an effective marketing plan geared towards a specific target market
Assist with the Creative Process and designing of marketing materials.
Ensure that creative elements and branding coincide with the event demographics
Implement marketing plan through multiple and diverse mediums including Radio, Print, Television
Use strategic partnerships and leveraged media to maximize exposure

Market Plan Diagram (pdf)
» Click

to see merchandise and giveaway examples from previous events.
» Click

to see past event advertisements including radio, television and print.
Delivery
Use relationships with suppliers and service providers to create economies of scale
Handle registration services
Take care of staging and production of event
Oversee on site set-up of multiple service providers
Manage scheduling
Develop contingency plans

2008 Operations Schedule (pdf)
» Click

for a list of some suppliers 21one has dealt with for past events.
Evaluation
Conduct Post-event assessments, receive feedback, determine if goals were met and areas of improvement
Budget Review
Demographic review
Sponsorship review
Supplier Review
Media Review

Participation Growth Chart - 2008 Little Big Run (pdf)
Site design by: