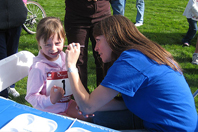 About Us
inspired to exceed....i2e
21one is a team with depth and extensive event management experience that is involved in all facets and levels of the planning and execution of an sporting and entertainment event - including creative and brand building, marketing and developing effective communication, sponsorship, promotional and media strategies and programs. 21one also has the expertise with the technical, operational and logistical elements that are critical for a successful event. This includes event design, audiovisual production, logistics, budgeting, negotiations and, of course, client services.
When you work with 21one, your event will not only benefit from their extensive network of quality suppliers and resources, but also 21one's ability to respond to an event's unique challenges and goals. From being involved with the creative stages and determining the appropriate target audience to executing the event within budget and maximizing exposure, 21one works for you.
21one's portfolio of events include international, national, provincial and local events - World Championships, World Cups, Continental Cups, National Championships, Provincial and City sporting and entertainment events, from 2,500 - to almost 20,000 event day participants, with single event's totaling over 50,000 with families, spectators and supporters. For sponsors and media, these large targeted demographics represent tremendous immediate and direct marketing and promotional opportunities.
» Click

for more information on 21one's general responsibilities and experience.
Vision Statement
To produce outstanding events that deliver high value for our participants and customers, measured by increases in key performance areas and satisfaction-two that are important are participant's referral to their friends and testimonials from our customers.
Mission Statement
To effectively plan and deliver outstanding events that exceeds expectations by constantly raising the level of quality.
Values
Inspired
Hard working
Initiator of ideas
Provider of solutions
Team work
Excellent Service
Having fun with people
Site design by: